Time for another What I Ate Wednesday!  Thanks for hosting this link up Jenny!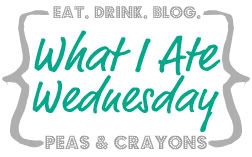 I've been trying to eat more consciously and healthfully, but I like noshing & snacking.  So rather than cutting out snacking, I have been trying to come up with some new snack ways that are not just crackers, chips, carbs.
I've been experimenting with different things, and also trying out different snacks from Trader Joe's (my fav grocery store).
Requirements:
lower gluten content than bread

low sugar
I like salty snacks the most
easy to store, and semi healthy.
On the most recent trip to TJoe's, I tried out:  Cashews, Banana Chips & Plantain Chips, and our sweet mainstay, Honey Sesame Almonds.  I also saw some Kale Chips & dried peas I'd like to try on a future trip.
Mike & I have also tried some Jimmy Bars, a new-ish nutrition bar based out of Chicago.  (Thanks Erica for offering some!)
Mike & I each tried some as we both eat bars for snacks occasionally, or for a quick post-workout tide-me-over-until-dinner.   The Jimmy Bars reminded us of Lara Bars, but the Peanut Butter one was not so peanutty. It was also not as sweet as we expected for 17g of sugar.  Mike in particular is very conscientious of his sugar intake and tries to pick "junk food" with the lowest amount of added sugar.  These bars were a bit higher than what he typically eats, and not as sweet.
Overall, I think the cashews & plantain chips are here to stay in my snacky repertoire.  They're easy to portion into a bag or tupperware to take to work or travel, and they are snacky and seem healthy enough.
What's your favorite snack?